It's not about the ads any more
20 years ago Schibsted challenged its own business by creating an online marketplace for classified ads. Now it's time to take the next step. Next generation marketplaces will meet the users' true needs.
Maria and Niclas are moving in together and have decided to rent out Niclas' apartment on Södermalm in Stockholm. Listing it on Blocket is easy. But then it gets harder. Of all the people contacting them, who will be a good tenant? As first-time landlords, they choose Christer, a likable young man from Linköping. How could they possibly know that he would stop paying rent after four months?
Our online marketplaces are now more than 20 years old. During that time they have become an integral part of society. With more than 264 million visits per month, and un­­aided brand awareness in the range of 75 to 95 percent you'll be hard-pressed to find someone who doesn't know about Finn, Blocket, Tori or Oikotie. Sleek, modern apps have made it possible to post an ad in just seconds, while advanced search and recommendation algorithms have made it easier than ever to find what you're after. Even so, Maria and Niclas found it stressful and burdensome to rent out their apartment. Why?
The reality is that even with all the advancements we've made over the last 20 years, we still owe our heritage to the old newspaper classifieds. They were essentially poster boards which left it up to the buyer and seller to figure out what to do after the initial contact. This is, unfortunately, still somewhat true today. It turns out that while making it easy to post and find ads is important, there are also plenty of other pain points buyers and sellers encounter, as the example with Maria and Niclas shows. In fact, if we zoom out a little, we begin to recognize that the goals of our users have nothing to do with ads at all. In fact, they are not interested in ads. What they really want is to rent out their apartment, drive a car, hire a dream candidate for a job or buy that one-of-a-kind set of vintage sneakers. Achieving these goals means overcoming a series of pain points in a longer transaction journey.
Different pain points
Next generation marketplaces will meet these needs and solve these pain points for consumers and professionals. While ads for different categories are fairly similar, the processes and pain points can be wildly different. For example, a landlord is interested in choosing the right tenant, having a solid contract in place and being certain that rent is paid every month. A car buyer will be concerned about the condition of the car, how to get a car loan, and how the payment is matched with the new ownership registration, among other things. Finally, a buyer of vintage clothing may be interested in shipment from a different part of the country. Each marketplace category has its own set of unique challenges to be solved in order to be called "next generation".
First and foremost, solving these pain points will make these services easier and safer. One example is Qasa, a fully digital real estate rental platform, which Schibsted is rolling out across the Nordics. Qasa has specialized in making the rental experience as convenient as possible. For the tenant it provides better search tools, such as making it possible to search within a specific commute time from where you work. The service revolves around a tenant profile which makes it easier for tenants to show who they are and for landlords to evaluate them. Finally, the service provides an added layer of security to the landlord by providing a digital contract, home insurance and payment guarantee.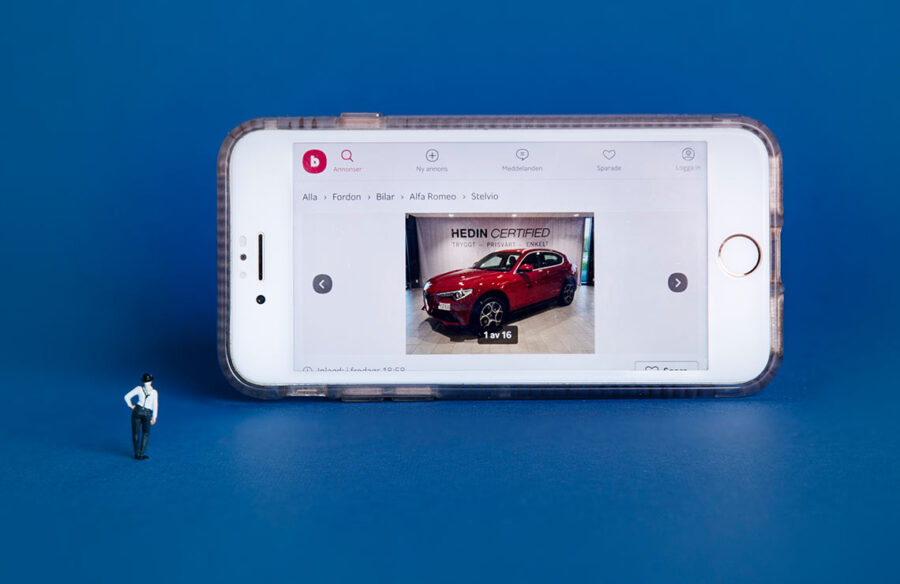 Another example is within cars. Both Finn and Blocket have started the work to make the car sales process fully digital. This includes a digital contract, integrated payment and payout of car loans along with automatic ownership registration. There are also extra services, such as free insurance for 30 days to the new car owner. All these features are significant upgrades to our core service in order to meet the users' needs.
Marketplaces will keep evolving
This digital process makes it much easier to sell your car yourself. Still, we know that some want it to be even easier and they are willing to pay for it. One indication of this is that more than half of all car sellers choose to trade in their car to a dealer, knowingly leaving tens of thousands of kroner on the table. This is where Nettbil can help out. With this service you just enter your license plate number and you get an immediate price indication. If you're satisfied, you deliver the car to a certified test center. From here on everything is taken care of. The car is tested, pictures taken, and the car is put up for auction to thousands of car dealers across the country, ensuring that you get the best possible price for your car. You can literally sell your car in a day.
Some people will of course continue to just post an ad and do everything themselves, while others want a better and simpler service, and are willing to pay for it. Upgrading only a small percentage of our users to next generation marketplace models could have significant business potential – but not least it would also increase loyalty and meet the users' core needs.
Looking into the future, marketplaces will continue to evolve rapidly in line with market demands. This evolution will make private-to-private transactions more similar to retail e-commerce experiences. For our couple, Maria and Niclas, life will be easier as they can rent out their apartment without worries, knowing that the service provided will ensure they get paid on time every month.
Christian Printzell Halvorsen
EVP Nordic Marketplaces/CEO of Finn
Years in Schibsted
11
What I've missed the most during the Corona crisis
The daily dose of fun and energy from physical interaction with colleagues