In just a few years, Schibsted's food channels, Matkanalen and Godare, have grown to inspire more than a million Scandinavians in the kitchen every month. At the same time, the various cooking show concepts have also reached a new group of advertisers within the food industry – and added a colourful feature segment to Aftonbladet.
In 2015, Øivind Lindøe founded Matkanalen (the food channel) a TV channel purely focused on food. The TV landscape was full of cooking shows but almost all of them were merged with a reality, competition or celebrity element.
"There wasn't a Scandinavian food channel at the time – that was the starting point", Lindøe says.
"I have worked with starting up companies before, but never before got such strong and early feedback that I was on the right track as with Matkanalen."
Øivind Lindøe has a background in marketing and economics. Cooking was not one of his main strengths.
"Luckily, my wife is a great cook, but I can honestly say that I, at that point, was struggling to find an aubergine in the supermarket. And there are probably a lot of other guys out there who have also been able to benefit from Matkanalen."
About 250 different episodes later, Øivind Lindøe is not the only Norwegian to have improved his cooking. His TV channel now reaches 600,000 monthly viewers.
The largest platform is Snapchat, where Matkanalen has 230,000 subscribers. As not everyone has a TV in the kitchen, a food channel has to find other ways to reach them.
"We aim to be in everybody's pocket. To be able to watch this on linear TV is just the base, a starting point. We see that people, more and more often, watch replays of our shows on their Ipad or on Snapchat", he explains. He also recognises that they probably will have to adjust to other markets and platforms going forward.
"There might be new social media platforms popping up that we don't know about. A visual version of Clubhouse perhaps? Or maybe we will be able to cook the same food as twelve other people, at the same time on a Saturday, and you all have a group room where you work together." Another goal at Matkanalen is to always keep climate and sustainability close to the end-product.
"Everything we talk about is in line with preserving nature, from using every part of a plant to spreading knowledge about the importance of using local products rather than buying them from Italy, even though they may be great", says Øivind Lindøe.
"That awareness is important. We are a part of the global trend of steering away from processed food, teaching people to make it themselves."
Perfect timing
Schibsted bought Matkanalen in September 2019, and then launched its sister channel in Sweden in April the year after. It was named Godare (Tastier), as the name Matkanalen already existed as a Youtube channel run by dairy product giant Arla.
The timing was perfect – millions of Swedes were just about to start working from home, spending more time in their own kitchens. The challenge was that Godare's commercial manager, Karin Widmark, was one of them. Fresh from Swedish national network TV4, she only had one day in the office before the pandemic forced the team to continue working from home.
"I got the mission to be responsible for a brand-new TV channel from my kitchen table", Karin Widmark says.
"There were a lot of decisions that needed to be taken all the time, and I had to go off gut feeling and previous experiences. And it's been fantastic. The best thing I've done in my whole life."
Aiming at people between 25 and 59, with a 50 percent split between men and women, Godare was going to be something completely different compared to the cooking shows Karin had worked with at TV4, where entertainment typically was mixed with cooking.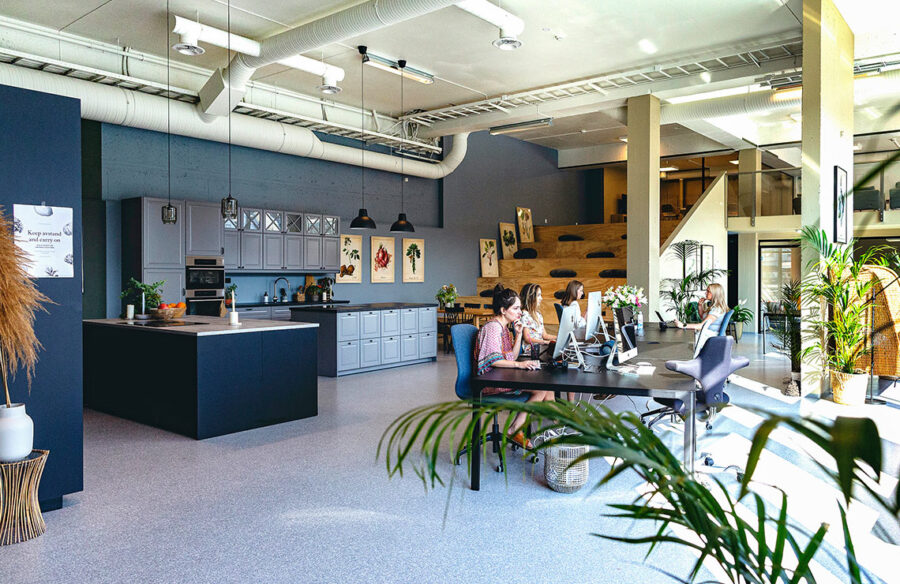 With Godare, Sweden also got a channel entirely dedicated to food. And Schibsted got a new TV production to fill with advertising offers within the fast-moving consumer goods market, such as supermarket groceries – a category that had been identified as an untapped area for advertising.
About 75 percent of Godare's content is produced abroad, with big names such as Jamie Oliver. The remaining 25 percent is recorded in Sweden with established influencers or new talent.
A wide range of profiles
In her previous roles, Karin Widmark had come across many food influencers, and she used her contacts to recruit a wide range of profiles to start building the brand.
Fast-forward to a year-and-a-half later, with more than half a million weekly viewers, she needs much less persuasion to recruit cooking personalities these days.
"Now I don't have to say 'Hi, I'm Karin Widmark, you might remember me from TV4 when we worked together'. Now most people know what Godare is", she says.
Karin Widmark thinks Godare became a source of joy for many people working from home during the pandemic.
"I get fantastic feedback daily from people calling me just to say 'Thank you for having started a channel that I can always keep on, without risking there being talk about corona, statistics, or the importance of alcogel'."
Not only is it included in the main Swedish TV networks (Comhem and Telia), Godare also merged with Aftonbladet's food section Mat & Dryck (Food & Drinks) in May 2021, publishing content from the food channel on Scandinavia's most-visited news site with four million daily visitors. This created something Karin Widmark calls a "360 solution" for customers who want to advertise in linear TV as well as digitally, in packages that are tailor-made for the purpose, goal and budget of the campaign.
Bringing colour to Aftonbladet
"Food and beverage is something that we've been focusing on more over the past few years. We want to reach out to that target group, strengthen the mixed sections in Aftonbladet, and deliver on the advertising market's demand of FMCG", says Aftonbladet's publisher Lena K Samuelsson.
One of the next steps is to create a dedicated Godare website. Adjusted to Aftonbladet's format and language, Godare's cooking shows have also played an important role in bringing colour to the news site.
"Over the past years we've worked hard to incorporate more feature into Aftonbladet's digital journalism, expression, and business model", says Lena K Samuelsson.
"Godare has worked very well with our voice and tonality. I usually say that news is our heart, but the mix is our personality. There was a time when we were about to lose our personality, but over the past three to four years, we've been working on building it up again."
Returning to Øivind Lindøe at Matkanalen, it makes him excited to think about the new experiences technology can bring. He believes there could be some new perspectives on the horizon.
"Perhaps we won't be just labelled TV or online – we'll simply be working with food and inspiration."
Country: Sweden.
Launched: 2020.
Daily viewers on linear TV:
About 180,000.
Weekly viewers on linear TV:
About 500,000.
Divide men/women: 50%.
Target audience: 25–59 years old.
Biggest in age group: 40–60.
Country: Norway
Launched: 2015
Cooking shows: 250
Weekly viewers on linear TV:
About 200,000
Target audience: "Foodies in all ages and genders," according to founder Øivind Lindøe.
Petter Larsson
London stringer at Aftonbladet
Years in Schibsted: 9